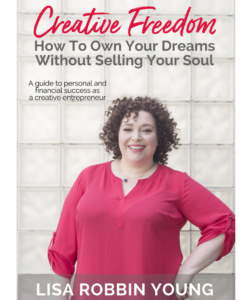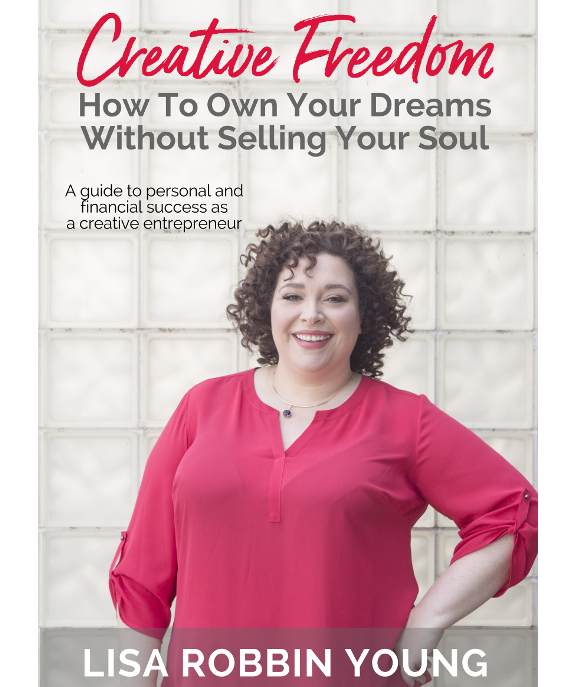 From the very Linear to the most Chaotic of creatives, there is a way to build a profitable, sustainable business that works for you - your way!
If you've been struggling to "make it" as a creative entrepreneur, if you've been thinking about turning your passion into your career, if you've been trying to figure out how to make a living wage doing what you love, then you need Creative Freedom!

Best selling author (and Fusion Creative) Lisa Robbin Young debunks the myth that you have to sell your soul in order to be successful as a creative entrepreneur, and shows you how to define success on your own terms.
Drawing on Lisa's decades of experience as a growth consultant with creatives across the spectrum, Creative Freedom reveals the strategies that have helped entrepreneurs around the world have healthy, six-figure incomes (or more) pursuing their creative calling.
With her trademark mix of "can-do and how-to" Lisa Robbin Young shares concrete strategies alongside inspiring stories from her personal journey and other creative entrepreneurs to help you build a successful career doing what you love.
No more "blueprints" or "formulas" that try to shoe-horn you into something that doesn't work!
Using your Creative Freedom Entrepreneur Type and stage of business development as the foundation, you'll build a customized 12-month road map to grow your creative business in a way that works for you.
Take a peek behind the curtain and apply these lessons to your own creative career.
Inside the more than 250 pages of Creative Freedom you'll learn:
* How to know if you're a creative entrepreneur or a creative hobbyist
* The 4 strengths every creative entrepreneur needs to succeed
* Why creative entrepreneurs need to set goals differently (and how to do it)
* How the blind spots of your Creative Freedom Entrepreneur Type may be slowing your success (and how to fix it)
* How to build a Growth Plan for the next 12 months that works for your unique situation
* And so much more!
Whether you've been struggling for a while or you're just thinking about leaving your day job, Creative Freedom works with the way you work, to help you define and achieve success on your own terms.
Already Bought Creative Freedom?
What folks are saying:
"As a fellow FUSION creative, I love Lisa's book. She doesn't feed you dogma like many others do. Her advice can be adapted to any kind of creative. It feels like she wants you to do YOU, not to squeeze you into some kind of box. I've come across some square box people in my day, so it's refreshing to see something you can follow without changing YOU.

"It's clear and concise with clearly defined chapters which make it easy to go back when you need to and take a chapter at a time. She's also added assignments at the end of each chapter. The best about these is that they're not too big. They don't feel like moving a mountain. They feel doable so it's more likely that you'll actually do them." - Linda Ursin, Fine Artist, LindaUrsin.net

"As a human being & business coach, Lisa is direct + compassionate, with no tolerance for fluffy stories so many internet entrepreneurs spin. When I found out she was encapsulating her years of experience into a hands-on book, I was thrilled-- and she didn't disappoint! This book takes your hand and explores deeply the reasons you're not asking for sales every day. It takes your sandy foundation and creates bricks of consistency and visibility from them. This is for every creative entrepreneur who struggles to see how today's action leads to money in the bank tomorrow." - Jeanie Witcraft-Shiau, LCSW & CEO of Practical Solutions Counseling at jwitcraft.com

"Creative Freedom is just the right balance of reality checks and encouragement for someone just starting out or figuring out how to keep going! While other authors tend to focus on the glamorous parts of being an entrepreneur to sell the dream and lifestyle (perhaps also to pat themselves on the back if only a little), Lisa gives you a more accurate view and allows you to decide if that's the road and life for you, then shows you how to achieve it."- Mr. Francis Lora, LCSW-R, Founder and CEO of So Grand! - Your Source of Guidance and Resources for Autism and Neuro-Diversity
Creative Freedom is available at these book sellers: